Links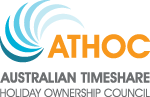 Korora Bay Village Resort is a proud member of Australian Timeshare Holiday Ownership Council (ATHOC).
Travel Links
www.qantas.com.au - Flights to Coffs Harbour daily via Sydney.
www.virginblue.com.au - Flights to Coffs Harbour daily via Sydney and direct flights from Melbourne on Saturday and Sunday.
www.thrifty.com.au - A local branch in Coffs Harbour offering competitive pricing.
www.countrylink.info - Plan your train travel here.
www.greyhound.com.au - Plan your bus travel here.
Attraction Links
www.coffscoast.com.au - Explore the many things to do on the Coffs Coast. 1 week won't be long enough.
www.dolphinmarinemagic.com.au - Visit the award winning Pet Porpoise Pool during your stay.
www.butterflyhouse.com.au - 2010 Tourism award winner.
www.bigbanana.com.au - Offering toboggan rides, ice skating, inflatable water park, candy kitchen, trike rides.
www.tabatinga.com.au - Family fun with glow in the dark mini golf, balladium ball blaster, jungle gym soft play and more.
www.beachtobushbuggytours.com.au - A great way to see the Coffs Coast and experience the great outdoors
There are just too many things to mention. See www.coffscoast.com.au for a full preview on holiday activities.
Dining Out
www.saltwateronthebeach.com – Meters from Emerald Beach. Beautiful food and great service.
www.cex.com.au – Our local RSL offers something for everybody including free kids meals. They offer a courtesy bus.
Beauty
www.opalessence.com.au - Treat yourself to a massage and beauty treatment. Only a short distance from the resort or they can come to you while you are at our resort.

Transport
www.coffstaxis.com.au
www.ryansbusservice.com.au
Pets
www.pettinapark.com.au - If you wish to bring your pooch along, boarding kennels are only 5 minutes drive from the resort.
Weather
www.bom.gov.au/nsw/forecasts/midnorth.shtml
Shopping
www.parkbeachplaza.com.au – Only a 5 minute drive from the resort!
Holiday Exchange Companies
www.daelive.com
www.rci.com
www.holidayconcepts.com.au
www.icegallery.com